A Clear Bra is a transparent, nearly invisible paint-protection film that is made from a polyurethane. Its main function is to shield your vehicle's finish from road debris such as sand and gravel that would normally cause permanent damage
paint protection film, known as clear bra
Car Paint Protection film is ultimate defense against hazards from everyday driving, including:

rock chips
Guaranteed to stop rocks from ruining your paint.

door dings
Don't let tight parking spots cause you anxiety or stress. Protect your doors from other's carelessness.

Shopping Carts
Eliminate that worry when you see a shopping cart resting on your bumper.

paint transfer
Bumping up against a yellow pole or even another cars bumper? Just wash it off & the paint below is still in pristine condition.

Self-Healing Finish
Unsightly scratches and swirls marks are a thing of the past. Scratches literally disappear before your eyes with a little bit of heat.

Avoid Repainting
No re-paint is ever going to be as good as your factory finish. Avoid a costly repaint and protect your finish from the start.
Paint Protection Film can be applied in several stages, common areas outlined below:
Doors
Hood
Mirrors
Front and Rear Bumpers
Mirrors
Fenders
Quarter Panels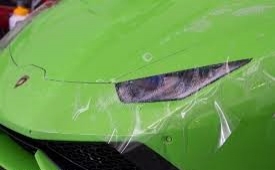 The Car Paint Protection film comes with 5 to 10 years warranty depending on film brand. The clear bra's clear coat finish is self-healing, resistant to scratching, and offers full paint protection against the elements. To ensure the perfect fit, each section is custom fitted to your specific vehicle.